Multifamily Impact Collaborative Calls
Multifamily Impact Collaborative Calls are opportunities to learn, grow, and engage with leading experts and practitioners in the multifamily and multifamily impact investing industries. All calls take place virtually on Zoom.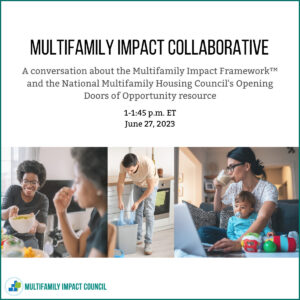 Our next call is scheduled for 1 p.m. ET on June 27, 2023.
Join us for a conversation about the:
National Multifamily Housing Conference's Opening Doors of Opportunity resource
Multifamily Impact Framework™
You can use the form below to register for this event. You'll receive via email details for joining the call after registering.
Please email us with any questions, or if you don't receive a confirmation email after registering: mic@multifamilyimpactcouncil.org.
We hope you'll join us!
Multifamily Impact Collaborative Call Registration
Complete the form below to register for the next Multifamily Impact Collaborative Call.